Sunday @ 7:30 PM Swiss Mix
Guest curated by Partick Huber, Direcotr of Videoex International Experimental Film and Video Festival in Zürich.
TRT 67:47 min.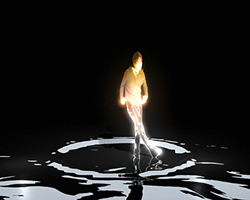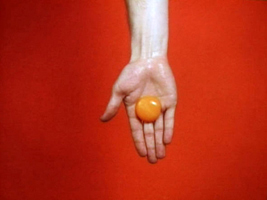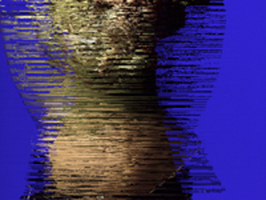 Umfrieden (Enclosed) - Lukas Bardill and Gabriela Gerber 2004 2:30
The small fenced off piece of land on a mountain-slope. A whistled child song can be heard in the background. After some time, the image disappears swallowed by fog, the whistling goes on in the distance. The dilemma between the human longing for home the desire to be part of the whole. Their video evokes only the subtlest of landscape imagery. The hiding and omitting of the actual object is key to Gabriela Gerber's and Lukas Bardil's work. They create aspects of landscape by following their own imaginations, memories and longings. Their interest in fragmentation is based on the knowledge that there is more out there than what is visible.


Videosagen 2 - Ariane Andereggen 2004 9:35 (English subtitles) (Winner 2004 Swiss Competition)
Videosagen 2 explores the tone and inner truths of Swiss legends: death and nature, laws of life and love. The artist did a lot of research, reading more than 200 legends before she started shooting and editing. Narrating in an almost dry way, she spoils us with unexpected images from the valleys, the skies, and the snows of Switzerland. It is important to know that the background of these accounts is the material misery and threatening circumstances of life in the Alps, not some psychological romanticism on the part of contented mountaineers.

Moving vast amounts of water to a Barren Place - Alexander Hahn 2004 8:30
Electronic treatise on light and memory - memory conceived as history of luminous motion. Moving Vast Amounts of Water to a Barren Place conjectures a counterpart to Glenn H. Curtiss? historic flight of 1910: one of mental association. This "Hudson Flyer" takes to the air above a New York State of memory. It permeates matter, like water changing from vapor to liquid to solid, taking the viewer to the inner fire of memory?s images, imagination and dreams.


Aus glücklichen Tagen (From fortunate days) - Julia Kälin 2002 4:50
Savoury, sensuous and surprising. Destructive, disgusting and debased.

Haushalten (Housekeeping) - Christoph Oertli 2002 7:00
Different fragments of furniture and lamps are moving suspended in an open space. Housekeeping explores what is a home. Some create their home, some abandon it and some look for it for a lifetime. What do we surround ourselves with? How much structure, rhythm, security, obligation and responsibility belong to our idea of home? The individual participates in a ruling system. Sometimes what looks like an enviable situation can transform into threat.


"U" - Yuri A. 2003 4:00
Facts on farts. An intimate introduction to the fine art of fart, starts and departs with a fart. With great music from rears to ears.


Good Morning! (Platforms for Events) - Koka Ramishvili 2004 7:00
Good Morning! - is an invitation by the artist to participate in Platforms for Events: accumulating a prolonged sense of emptiness whilst at the same time creating a growing expectation that something is about to happen Photographic projections of interior and exterior images are covered with incessantly driving rain, frozen images from the past are stretched within the noise of the passing present. It is a very personal work born out of the artist? transitional state, out of a delirium where his relocation and dislocation come together. It is a work generating an empty square stretched within one? personal limbo; in between past and present.


Circus - Collectif-fact 2003 2:10
Circus deals in a very unusual way with the construction of space. The video work is based on digital photos of a busy square in Geneva that the artists dissembled into layers and subjected to digital animation. Set pieces of urban architecture, logos, and passer by float incalculably and vertiginously towards the viewer. The artists create a three dimensionality that refers indirectly to the virtual *D worlds of computer games. The work refers to the way in with we appropriate urban structures. The accelerated movement and navigation in the public space, results in the nonlinear perception of our environment.


Quicksilver - Zilla Leutenegger 2002 1:00
I am sitting in a sea of quicksilver. A spoon rises with me in the sky. A drop falls down - again I am sitting in a sea of quicksilver...

Die Möglichkeit nicht mehr haben, sich weniger ähnlich zu sein (To no longer be able to be less like oneself) - Yves Netzhammer 2003 12:27
In his idiosyncratic poetic picture language, Yves Netzhammer creates in this video an allegory of freedom. In bondage, neither the bird, trapped in the cage, nor the man, trapped in his own body, possess the freedom for self-definition. The mirror remains as the only counterpart and death remains as the only way to freedom. Netzhammer's digital animations depict a strange universe filled with symbolic elements en acts which reflect about 'man'. Communication, vulnerability and insecurity are key elements.

nuiork - Ingo Giezendanner alias Grrrr 2003 4:45
Ingo Giezendanner documents since years his surroundings with black & white India ink drawings, The charm of these pop-influenced, animation-style drawings lies in their narrative poetry. Out of his drawing material he produces clips and short movies, melting drawing, video and webstyle images to collage style work. A three month residence in New York was the starting point for this clip (also available on www.grrrr.net)

Black Milk - Max Philipp Schmid and Beat Brogle 2002 4:00 (Winner 2003 Swiss Competition)
A high-speed trip on the road and on lines of the digital image. An angry dancer and the display screen. Pixels burn themselves into her skin. She strikes back and rips the image into strips. In an ecstatic dance she confirms the hard beat in her body. Black Milk originated in relation to a song with the same title by Knut & Silvy (make up/recrec ). Parallel to the development of the music videos, Beat Brogle and Max Philipp Schmid created visuals which they use in live improvisation while visually accompanying Knut & Silvy during concert performances.